Pastry:

1 cup margarine or butter (softened)
1/2 cup sugar
2 3/4 cups flour
1/4 teaspoon salt
1/2 teaspoon vanilla
1 egg

Filling:

3 cups fresh or frozen blueberries
1 cup sugar
3 tablespoons cornstarch
1 teaspoon powdered sugar

Preheat oven to 375 degrees.


Directions for the pastry:

1. In a large bowl combine the margarine sugar. Blend well.

2. Measure out flour, do not pack in cup.

3. Add to the margarine mixture the flour, salt, vanilla and egg. Blend well.

4. Cover and refrigerate until firm which should be about 2 hours.

Directions for filling:

1. Using a medium saucepan combine the blueberries, sugar and cornstarch.

2. Stirring constantly, cook over medium heat until the mixture comes to a boil.

3. Boil for 3 minutes or until the mixture thickens, again, stir constantly.

4. Remove from heat and let cool.

Directions for baking:

1. Pat 1/3 of the chilled dough into the bottom and 1/2 inch up the sides of an ungreased 9x13 inch pan.

2. Spread blueberry mixture evenly over the dough.

3. Roll out the remaining dough between two pieces of waxed paper to a 1/4 inch thickness.

4. Cut with a fluted wheel into 1/2 inch wide strips.

5. Arrange strips over top of blueberry filling in a lattice design.

6. Strips may break but will bake together.

7. Trim edges so they don't hang over edge of dish.8. Bake for 30 to 40 minutes or until top is golden brown.

9. Cool and sprinkle with powdered sugar. Serve with ice cream or whipped cream.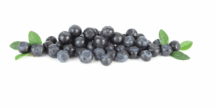 Return to Blueberry Pie Recipes from Finnish Blueberry Squares