Light and Fluffy Blueberry Pancake
Light and fluffy blueberry pancake. You will feel like you are on a cloud!


TOPPING
1 (15 oz.) can wild blueberries, un-drained
2 tbsp. granulated sugar
1/2 tsp. grated lemon peel
1/4 tsp. ground cinnamon
1 tbsp. cornstarch
2 tbsp. lemon juice

PANCAKES:
1 1/4 c. unsifted all purpose flour
2 tbsp. granulated sugar
2 tsp. baking powder
1/2 tsp. salt
1 1/3 c. skim milk
2 lg. egg whites, slightly beaten

Make filling in saucepan. Bring blueberries and their liquid, the sugar, lemon peel and cinnamon to boil. In custard cup, blend cornstarch with lemon juice, stir into blueberry mixture. Boil 1 minute. Keep warm.

Make pancakes in bowl. Blend dry ingredients with milk and egg whites. With cooking spray, grease griddle. Heat over medium heat. Pour batter by 1/4 cupfuls onto griddle. Cook until golden on each side. Top with filling and stack high!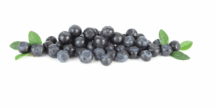 Return to Blueberry Pancake recipe index from Fluffy Blueberry Pancake