In a Jiffy Blueberry Muffin Recipe
Short of time? Make this "In a Jiffy Blueberry Muffin" recipe.
2 1/2 c. Jiffy Baking Mix
1/2 c. sugar
3/4 c. milk
1 egg
2 tsp. melted shortening
2 c. blueberries
Blend Jiffy Mix, sugar, milk, egg and shortening with a mixer until smooth. Add more milk as needed. fold in the berries. Lightly grease muffin pan and fill each cup 3/4 full with batter. Sprinkle muffin with a little sugar and bake at 400 degrees for 15 to 20 minutes. Wow! That was fast... let's eat.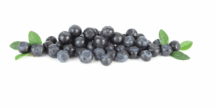 Return to Blueberry Muffin recipe index from Jiffy Blueberry Muffin