Lemon Blueberry Cobbler
With this delicious lemon blueberry cobbler recipe your friends will think you've been cooking all day!
2 cups fresh or frozen blueberries
1 teaspoon freshly grated lemon zest
1/3 cup sugar
1 tablespoon fresh lemon juice
1 teaspoon cornstarch
2/3 cup all-purpose flour
1 teaspoon baking powder
3/4 teaspoon ground cardamom
1/2 cup heavy cream
Preheat oven to 400° F. and butter an 8-inch (1 1/2-quart) glass pie plate.
In a bowl toss together berries, zest, sugar, lemon juice, and cornstarch until combined well and transfer to pie plate.
In another bowl sift together flour, baking powder, cardamom, and a pinch salt. Add cream and stir until mixture just forms a dough. Drop dough in 5 mounds on blueberry mixture and bake in middle of oven until biscuits are golden and cooked through, about 25 minutes.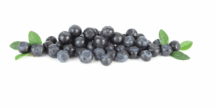 Return to the Blueberry Cobbler index from Lemon Blueberry Cobbler