Natural Maple Blueberry Coffee Cake Recipe
Nature has made this Maple Blueberry Coffee Cake delicious.
Topping
1/2 cup butter
1 cup maple sugar or brown sugar
2 tsp. cinnamon
Batter
1/2 cup butter
1/4 cup sugar
2 eggs
1 cup sour cream
1 tsp. vanilla
2 cups flour
1 tsp. baking powder
1 tsp. baking soda
1/4 tsp. salt
1 package frozen or 2 cups fresh blueberries, mixed with 1/4 cup pure maple syrup.
In a small bowl combine topping and set aside.
In a large bowl cream butter and sugar until light and fluffyAdd eggs, blend well on low speed. Stir in sour cream and vanilla. Combine flour, baking powder, baking soda and salt, add to batter and blend well. Spread two thirds of batter into lightly greased 9" spring form or tube pan
Top with blueberry mixture. Spread remaining batter evenly over filling. Sprinkle with topping
Bake at 350 degrees for 1 hour or until done.You can substitute raspberries, strawberries or rhubarb for the blueberries.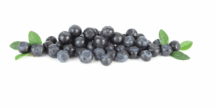 Return to Blueberry Coffee Cake recipe index from Maple Blueberry Coffee Cake