Wholesome Maple Blueberry Pie


Maple Blueberry Pie! We have the good fortune of making our own maple syrup each spring. A delicious recipe for the "boiling off" party, a celebration that happens at the very end of the syrup season.


4 c. blueberries
1/2 stick butter
2 tbsp. flour (approx.)
1 tsp. cinnamon
1 c. maple syrup

Fill prepared pastry crust with berries. Sprinkle them lightly with flour and cinnamon. Dot with butter and pour maple syrup over top, cover with top crust and sealed edges with a fork.

Make three slits in the top crust and bake in 350 degree oven for about 30 minutes. Serve with Cool Whip or heavy sweet cream.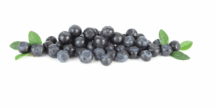 Return to Blueberry Pie Recipe Index from Maple Blueberry Pie Recipe