Miniature Blueberry Cheesecakes
Miniature blueberry cheesecakes. Great idea for cocktail parties. Be sure to make plenty of these because your guests will certainly devour them quickly!
25 foil cupcake liners
25 Nilla wafers
2 (8 oz.) pkg. cream cheese
3/4 c. sugar
2 eggs
1 tbsp. lemon juice
1 tsp. vanilla flavor
1 can blueberry pie filling



Cream cheese and sugar. Add eggs, beating well. Add lemon juice and vanilla flavoring. Beat until light and fluffy. Put 1 Nilla wafer in foil liners in muffin tin. Put 1 tablespoon of cheese mixture in foil liner. Bake in 375 degree oven for 15 minutes. Cool - then put 1 spoon of blueberry pie filling on top of each.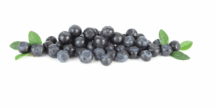 Return to blueberry cheesecake index from miniature blueberry cheesecakes