New York Cheesecake With Blueberries
This New York cheesecake with blueberries is made from scratch and every bite is especially delicious.
1/3 c. butter, melted
1 1/4 c. graham cracker crumbs
1/4 c. sugar
4 (8 oz.) pkg. cream cheese, softened
1 (14 oz.) can sweetened condensed milk
4 eggs
1/3 c. unsifted flour
1 tbsp. vanilla

Preheat oven to 300 degrees. Combine butter, crumbs and sugar; press firmly on bottom of 9 inch spring-form pan. In large mixer bowl, beat cream cheese until fluffy. Gradually beat in sweetened condensed milk until smooth. Add eggs, flour and vanilla. Mix well. Pour into prepared pan. Bake 1 hour or until lightly browned. Cool. Chill thoroughly. Refrigerate leftovers.


BLUEBERRY SAUCE:

2 tbsp. sugar
2 tsp. cornstarch
1/4 c. water
1 c. blueberries
1 tbsp. lemon juice

In small saucepan, mix sugar, cornstarch, water, and lemon juice. Cook and stir until thickened. Add blueberries; cook until bubbly. Chill. Spread on top of cheesecake and refrigerate.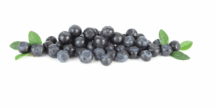 Return to Blueberry Cheesecake recipe index from New York Cheesecake With Blueberries