Healthy Oat Bran Blueberry Scones
Oat bran makes these Oat Bran Blueberry Scones a terrific option for breakfast.
1 1/2 cups oat bran
1 1/2 cups all-purpose flour
1/3 cup light brown sugar, packed
2 teaspoons baking powder
1 teaspoon cream of tartar
1/2 cup butter
2 Eggs
1/3 cup plain yogurt
1 teaspoon vanilla extract
1 1/2 cups blueberries

Preheat oven to 400 degrees; grease a baking sheet. In a large bowl, mix the bran, flour, sugar, baking powder and cream of tartar together. Cut in the butter.

In a separate bowl, mix the eggs, yogurt and vanilla extract. Blend into the dry ingredients. Fold in the berries carefully. Form into a circle on the baking sheet. Cut into wedges, wiping the knife each time. Bake for 20 to 25 minutes.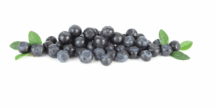 Return to Blueberry Scones & Biscotti index from Oat Bran Blueberry Scones