Oatmeal Blueberry Cookies
Oatmeal Blueberry Cookies - Oatmeal, honey and blueberries... Sounds like breakfast!
1 cup flour
1/2 teaspoon baking soda
1/2 teaspoon salt
1/2 teaspoon cinnamon
1 1/2 cups rolled oats
1/2 cup butter, softened
1/2 cup white sugar
1/2 cup brown sugar
1 large egg
2 tablespoons honey
1/2 cup blueberries

Directions:
Mix dry ingredients together and set aside. Cream butter and sugars. Add egg and honey, mix well. Stir in dry ingredients. Stir in blueberries.Drop by rounded teaspoons on parchment lined cookie sheets. Bake at 350° for about 8-10 minutes, until golden on the edges and just set.

Cook them too long and they will be hard and they are better chewy. Cool on racks, store airtight. Makes 3-4 dozen.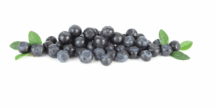 Return to Blueberry Cookie Index from Oatmeal Blueberry Cookies