Old Fashioned Blueberry Pie
Good Old Fashioned Blueberry Pie is always a crowd pleaser!
1 unbaked 10 inch pie shell with top crust
3 c. fresh or frozen (un-thawed) blueberries
1 1/4 c. plus 1 tbsp. sugar
1 tbsp. lemon juice
3 tbsp. quick cooking tapioca
1/2 tsp. cinnamon
1 tbsp. butter

Preheat oven to 400 degrees. In a bowl, mix blueberries, 1 1/4 cup sugar, lemon juice, tapioca. Pour into unbaked pie shell. Sprinkle with cinnamon, dot with butter. Cover with top crust, flute edges and vent top.

Sprinkle top crust with 1 tablespoon sugar and bake for 40 to 50 minutes. If crust starts to darken before pie is done, cut foil strips to lay over edges.


---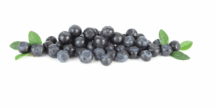 Return to Blueberry Pie recipe Index from Old Fashioned Blueberry PieRecipe