So Easy
Peach Blueberry Pie
It doesn't get any easier or more delicious than our Peach Blueberry Pie recipe. Impress your family today!
1 uncooked pie shell, top and bottom crusts
2 tbsp. lemon juice
3 c. sliced peaches, peeled
1 c. blueberries
1 c. sugar
2 tbsp. quick cooking tapioca
1/2 tsp. salt
2 tbsp. butter

Directions:
Sprinkle lemon juice over mixed fruit. Mix sugar, tapioca, salt, and butter and toss lightly with fruit. Let stand 15 minutes. Turn into pastry shell, mounding in the center. Dot top with butter. Put second crust over fruit and brush top with 1 egg yolk and a sprinkle of sugar, if desired. Bake at 425 degrees for 45-50 minutes.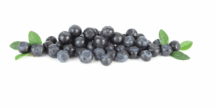 Return to Blue Berry Pie Recipe Index from Peach Blueberry Pie recipe