Red White and Blueberry Cake
Red White and Blueberry Cake is great for your next 4th of July celebration or any summer day!
CAKE INGREDIENTS:
1 pkg. white cake mix
1 1/2 c. blueberries
1 tbsp. lemon juice
1/4 tsp. allspice
1/4 tsp. cinnamon
Mix cake ingredients as directed on package. Add lemon juice, allspice and cinnamon. Fold in blueberries. Pour into two 9 inch cake pans. Bake in 350 degree oven for 30 minutes.
FROSTING INGREDIENTS:
1 c. shortening
1 1/2 tsp. vanilla
1/2 tsp. almond extract
4 3/4 c. sifted powdered sugar
4 tbsp. milk
7 med. strawberries(fresh)
1/2 c. blueberries (fresh)
Mix shortening, vanilla, and almond extract. Add powdered sugar and milk. Mix until spreadable consistency. Frost cake between layers, adding sliced strawberries between the layers of cake. Continue to frost the entire cake. Garnish top with blueberries and strawberries.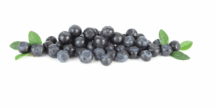 Return to Blueberry Cake recipe index from Red White and Blueberry Cake