Red White and Blueberry Pie
Red White and Blueberry Pie from oodles of recipes.com
An attractive dessert using fresh or frozen blueberries and raspberries.
Ingredients:
1 baked 9-inch pie crust
1 cup sugar
4 tablespoons cornstarch
1 cup water
1 (85 gram) pkg. raspberry jell-o
2 cups fresh or frozen unsweetened blueberries
1 teaspoon lemon juice
2 cups fresh or frozen unsweetened raspberries
4 oz. cream cheese
1/3 cup icing sugar
4 oz. frozen whipped topping, thawed


In medium saucepan, combine sugar, starch and water. Cook and stir until thick and clear. Stir in jell-o until dissolved. Divide mixture in half.
Stir blueberries and lemon juice into one half, spread in the bottom of pie crust.
Chill until set. Set remaining jell-o in room temperature.
In mixing bowl, beat cream cheese and icing sugar until smooth, fold in whipped topping and spread over blueberry layer. Chill until set.
Spread the remaining jell-o over the cheese layer and arrange the raspberries over top.
Chill at least 4 hours. Serves 8.

Note: Raspberries may be gently stirred into the jell-o but it isn't as attractive.


OOdles of Recipes in Shirley's Kitchen
A variety of recipes, cooking tips and meal ideas.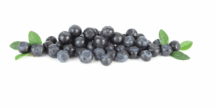 Return to Blueberry Pie index from Red White and Blueberry Pie