Red White and Blueberry Squares
Red White and Blueberry Squares are a perfect dessert for the 4th of July.
CRUST:
1 1/2 c. all Purpose or unbleached flour
3/4 c. firmly packed brown sugar
3/4 c. butter
3/4 c. finely chopped walnuts
FILLING:

1 pt. (2 c.) fresh blueberries
1 (8 oz.) pkg. cream cheese, softened
1 tsp. vanilla
1 (7 oz.) jar marshmallow creme
1 (8 oz.) container frozen whipped topping, thawed
1 1/2 pts. (3 c.) fresh raspberries
GLAZE:
1 1/4 c. sugar
1/4 c. cornstarch
2 c. water
1 (3 oz.) pkg. raspberry flavor gelatin
Directions:
Heat oven to 325 degrees. Lightly spoon flour into measuring cup; level off. In large bowl, combine flour and brown sugar; mix well. Using fork or pastry blender, cut in butter until coarse crumbs form. Stir in walnuts. Lightly press mixture in ungreased 15"x10"x1" baking pan. Bake at 325 degrees for 10 to 15 minutes or until golden brown. Cool.
Sprinkle blueberries over cooled crust. In large bowl, beat cream cheese and vanilla until light and fluffy. Add marshmallow creme; beat just until combined. Fold in whipped topping. Spread over blueberries. Refrigerate about 1 hour or until firm. Sprinkle raspberries over top of cheese mixture.
In medium saucepan combine sugar, cornstarch and water; mix well. Cook and stir over medium heat until mixture thickens and becomes clear. Remove from heat; stir in gelatin until dissolved. Cool glaze 20 to 30 minutes or until lukewarm. Carefully spoon glaze over raspberries. Refrigerate about 1 hour until firm. Cut into squares. Store in refrigerator. 25 servings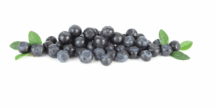 Return to Blueberry Bars and Dessert Recipes from Red White and Blueberry Squares