Wonderful Rhubarb Berry Coffee Cake
Wonderful fruits of the season! Try this Rhubarb Berry Coffee Cake.
1/2 cup each chopped rhubarb and chopped apples
1/2 cup each raspberries and blueberries
3/4 cup white sugar
2 cups flour
1 1/2 teaspoons baking powder
1 teaspoon baking soda
1/4 teaspoon salt
1/4 teaspoon nutmeg
1/4 cup butter, cubed
1/4 cup shortening, cubed
1 tablespoon grated lemon rind
2 eggs
1 cup plain yogurt
2 tablespoons butter, melted

Preheat oven to 375 degrees. Lightly grease 9-inch springform pan; line bottom with parchment or waxed paper.

Mix together rhubarb, apples, raspberries, blueberries and 2 tablespoons of the sugar. Stir together flour, 1/2 cup of the remaining sugar, baking powder, baking soda, salt and nutmeg.Cut in butter and shortening until fine crumbs form. Stir in lemon rind. Make well in center.

Beat eggs with yogurt; pour into well and stir just until dry ingredients are moistened. Spoon half of the batter into prepared pan.

Arrange fruit over top, leaving 1-inch border uncovered. Spoon remaining batter evenly over top, spread to cover fruit.Brush with butter; sprinkle with remaining sugar.

Bake on baking sheet in center of oven for about 1 hour or until golden brown. Let cool in pan on rack for 10 minutes. Remove side of pan and cool completely.



---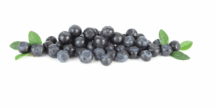 Return to Blueberry Coffee Cake recipe index from Rhubarb Berry Coffee Cake