Delicious Rhubarb Blueberry Pie
Rhubarb Blueberry Pie is perfect anytime of the year, but especially during the rhubarb season!


Pastry for 9 inch 2 crust pie
1 1/3 c. sugar
1/3 c. all-purpose flour or 3 tbsp. cornstarch
1/2 tsp. grated orange peel, optional
2 c. cut up fresh rhubarb
2 c. fresh or thawed frozen blueberries
2 tbsp. butter
Sugar


Heat oven to 425 degrees. Prepare pastry. Stir together 1 1/3 cups sugar, the flour and orange peel. Turn rhubarb into pastry lined pie pan; sprinkle with half of the sugar mixture. Repeat with blueberries and remaining sugar mixture. Dot with butter. Cover with top crust which has slits cut in it. Sprinkle with sugar. Seal and flute edges. Cover edge with 2 inch strips of aluminum foil to prevent excessive browning; remove foil last 15 minutes of baking. Bake until crust is golden brown and juice begins to bubble through slits in crust, 40-50 minutes. Serve warm.

Substitution: 1 package (16 ounce) frozen rhubarb, partially thawed, can be substituted for the fresh rhubarb; decrease sugar to 1 cup.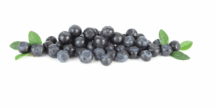 Return to Blueberry Pie recipe index from Rhubarb Blueberry Pie recipe