Delicious Sour Cream
Blueberry Pie Recipe
Sour Cream Blueberry Pie recipe. If you love blueberries and pecans you will want to try this down home recipe.
PIE INGREDIENTS:
1 cup sour cream
2 tablespoons all-purpose flour
3/4 cup sugar
1 teaspoon vanilla
1/4 teaspoon salt
1 egg, beaten
2 1/2 cups fresh or frozen blueberries(thawed and drained)
1 unbaked 9-inch pie shell
PECAN TOPPING:
3 tablespoons all-purpose flour
3 tablespoons soft butter or margarine
3 tablespoons chopped pecans
Directions:
In a mixing bowl, beat together sour cream, 2 tablespoons of flour, sugar, vanilla, salt, and egg until smooth, about 4 to 5 minutes. Gently fold in blueberries. Pour into the pie crust, top with pecan mixture and bake at 400° for 25 minutes.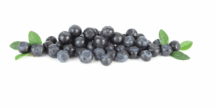 Return to Blueberry Pie index page from Sour Cream Blueberry Pie recipe