Sugar Free Blueberry Jam Recipe
This is a delicious sugar free blueberry jam recipe. This recipe makes a great freezer jam.
1 pt. fresh blueberries
1 packet liquid pectin
2 tbsp. fresh lemon juice
Sugar substitute to equal 5 to 6 tbsp. sugar or to taste (opt.)
Combine all ingredients in covered blender or food processor and puree smooth. Pour into 2 jelly jars. Cover and refrigerate undisturbed 24 hours or until set. Transfer the second jar to the freezer, if desired.
Keep under refrigeration. Makes 2 cups. 8 calories per tablespoon.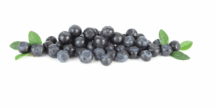 Return to jelly & jam index from Sugar Free Blueberry Jam recipe