Easy White Chocolate Blueberry Biscotti
Look like you cooked all morning with this easy White Chocolate Blueberry Biscotti recipe!
1 pkg. (18.25) blueberry muffin mix with can of blueberries included
3/4 cup all-purpose flour
1/2 cup (1 stick) butter, melted and cooled slightly
2 large eggs, slightly beaten
2 cups (12-oz. pkg.) NESTLÉ TOLL HOUSE Premier White Morsels, divided
DIRECTIONS:
Preheat oven to 350º F. Grease 2 baking sheets. Drain berries; set aside. Combine muffin mix, flour, butter and eggs just until combined in large bowl. Fold in 1 1/2 cups morsels and drained blueberries with floured hands. Shape half of the dough into a 12-inch-long roll (dough may be sticky). Place on a prepared cookie sheet; flatten slightly until about 2 inches wide. Repeat with remaining dough.
BAKE for about 25 minutes or until a wooden toothpick inserted near the centers comes out clean. Cool on baking sheets on wire rack for 1 hour.
Cut each roll diagonally into 3/4-inch slices with serrated knife. Place slices, cut sides down, on un-greased baking sheets.
BAKE for 10 minutes. Turn slices over and bake 6 to 8 minutes more or until light brown (do not over bake). Transfer to wire racks and let cool.
PLACE remaining morsels in small, heavy-duty plastic bag. Microwave on HIGH (100%) power for 20 seconds, knead bag to mix. Microwave at additional 10- second intervals, kneading until smooth. Cut a small hole in corner of bag; squeeze to drizzle biscotti. Let stand until the chocolate is set. Store in an airtight container at room temperature up to 24 hours or freeze up to 3 months for longer storage.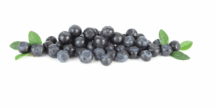 Return to Blueberry Scones & Biscotti index from White Chocolate Blueberry Biscotti