Decadent White Chocolate Blueberry Scones
Voted the best blueberry scones recipe - Decadent White Chocolate Blueberry Scones.
2 1/4 cups flour, sifted
2 tablespoons baking powder
1 teaspoon salt
1/4 cup sugar
1/4 cup chilled unsalted butter, cut into small pieces
1/2 cup white chocolate chips
1 cup blueberries
3/4 cup buttermilk, plus 2 tablespoons buttermilk
2 tablespoons powdered sugar

DIRECTIONS:
Combine flour, baking powder, salt and sugar. Cut butter into small pieces on floured surface. Add to dry mixture and mix with pastry cutter until crumbly. Add white chocolate and berries and toss with flour mixture. Add buttermilk and mix until ingredients hold together. Place dough mixture on floured surface and pat into a 9 X 9 square. Cut into thirds. Cut each third into three triangles and place on cookie sheet. Lightly dust each scone with powdered sugar. Bake at 375 for 10 minutes. Makes 9 scones.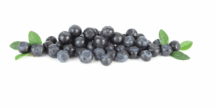 Return to Blueberry Scones &Biscotti index from White Chocolate Blueberry Scones