Healthy Whole Wheat Blueberry Pancakes with Yogurt Sauce
Whole wheat blueberry pancakes are a healthy alternative and a delight eat!
PANCAKE INGREDIENTS:

3/4 c. wheat flour
1 tbsp. baking powder
1/2 tsp. salt
1 1/4 c. skim milk
1/2 c. white flour
2 tbsp. sugar
1 egg, beaten
2 tbsp. vegetable oil
3/4 c. fresh of frozen blueberries



DIRECTIONS:
Mix all dry ingredients. Mix in egg, milk and oil, only until moist. Make pancakes as usual, dropping in a few berries after the first flip.

TOPPING:
1/2 c. low fat yogurt
2 c. blueberries
2 tbsp. maple syrup

Mix yogurt and syrup. Put on pancakes and top with berries.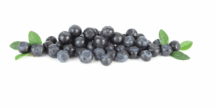 Return to Pancake recipe index from Whole Wheat Blueberry Pancakes